Position
Associate Chairman
Undergraduate Coordinator
Contact Information
Office Hours: MTWRF 10-11:30 am
Office: 358 Little Hall
Phone: (352) 392-0281
Fax: (352) 392-8357
Email: rs@ufl.edu
Mathematics Department
University of Florida
P.O. Box 118105
Gainesville, FL 32611-8105
For FEDEX and UPS use the street address 1400 Stadium Road
Teaching Assignment
Spring 2013
Introduction to Numerical Analysis
MAD 4401
Section 4815
MWF 7th Period
Little 125
Research Interests
Mathematical Logic
Computability Theory
Proof Theory
Program Verification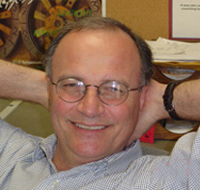 Pot Pourri
Resumania
"Resumania" is a term coined by Mr. Robert Half, founder of RHI Consulting's parent company, to describe the unintentional bloopers that often appear on job candidates' resumes, job applications and cover letters. Here's some examples:
"I perform my job with effortless efficiency, effectiveness, efficacy, and expertise." (And an eye on the "e" section of the dictionary, evidently.)
"Insufficient writing skills, thought processes have slowed down some. If I am not one of the best, I will look for another opportunity." (No problem …)
"I am very detail-oreinted." (With the possible exception of spelling)
"I can play well with others." (We'll be sure to tell your mommy.)
"Married, eight children. Prefer frequent travel." (A new twist on work-family balance.)
"Objection: To utilize my skills in sales." (Have you considered law school?)
"My salary requirement is $34 per year." (They say money isn't everything.)
"Served as assistant sore manager." (Ouch.)
"Work history: Bum. Abandoned belongings and led nomadic lifestyle." (So you're willing to travel?)
"Previous experience: Self-employed – a fiasco." (Definitely to the point.)
"Reason for leaving last job: Pushed aside so the vice president's girlfriend could steal my job." (We're glad you're not bitter.)
Gallagher's Obituary
Gallagher opened the morning newspaper and was dumbfounded to read in the obituary column that he had died. He quickly phoned his best friend Finney.
"Did you see the paper?" asked Gallagher. "They say I died!"
"Yes, I saw it!" replied Finney. "Where are you callin' from?"
No Reserve. No Retreat. No Regret.
William Borden