Geisha, Oiran, Maiko
Though the silk-faced ningyo are often generically referred to as "geisha dolls," only a few specifically represent the historical type of the geisha. The training (and regulating) of ladies as professionals in the art of pleasing men is an old tradition in Japan, dating at least from the early 17th century when the Yoshiwara pleasure quarter was established in Edo. The Yoshiwara women were vital to the imaginations both of the woodblock artists and of the kabuki drama. A particularly beautiful and accomplished woman of pleasure might be called a keisei, or "castle-toppler."
The celebrities among these women of pleasure were called oiran; an oiran  could pick her lovers among the wealthiest citizens (or love a poor man as well if she chose, especially in a play!), and she might walk out elaborately dressed (brocade obi tied in front, high platform geta shoes, and the most elaborate hairstyle possible), attended by apprentices and little girls. A different class was the geisha, originally an entertainer who played and sang for the oiran and her customers; eventually, however, the more quietly dressed, more variously talented geisha came to be more popular with the men of Edo than the oiran were. (The oiran culture has been supplanted in modern Japan by the geisha, who are still important as women ready to function in public.) A geisha is usually presented as a doll in a rich dark kimono with a simple obi, ready to play her samisen. We must also mention the maiko, a young dancer or apprentice geisha, usually particularly bright-looking with the long sleeves worn only by young girls, often with a parasol ready to go enjoy the world.
The women and girls who lived in the pleasure quarters, or in the schools for geisha, had been sold by their families, or had come there in desperation. Some of them might save gifts or tips from clients in order to purchase her freedom and start a new life; a rich lover who could afford to purchase such a woman for himself was another option.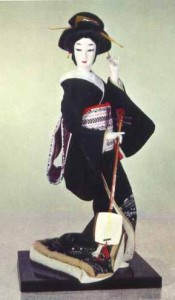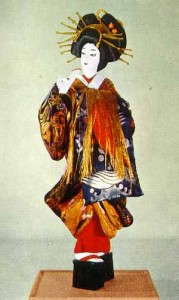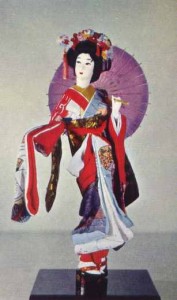 All these types of women have been portrayed in art and also in doll form. These three images of 20th-century dolls are from Sakura Dolls of Japan (Abston & Uchioke, 1963).