Ad Encounters with Houston A. Baker, Jr.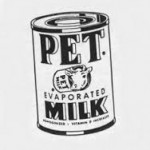 In the wake of Mad Men, mid-century American advertising seems to open portals to a domestic past that stands still. Nuclear families gather round Carousel slide projectors that never advance. Aproned Moms hold out Popsicles that stay on their sticks. Yet sometimes ads can unfreeze time, offering us flashbacks to the future. I've had this experience with a 1952 ad that projects childhood images of Houston A. Baker, Jr., a future pioneer in the field of African American Studies.
I found this Pet Milk ad in Ebony magazine while researching the postwar career of Gwendolyn Brooks. Twenty years after Houston A. Baker, Jr. appeared in these photographs, he would publish an essay on Brooks. I showed this ad to Professor Baker when he visited UF. He has graciously agreed to share his story about the ad, so he gets the last word.
First, a few points from a postwar studies perspective:
As Kimberley Mangun and Lisa M. Parcell note, the Pet Milk Company's Happy Family campaign was innovative in targeting and featuring African American consumers. It was the brainchild of W. Leonard Evans, Jr.–a pathbreaking Black advertising man who opened his own agency in 1951. The Happy Family campaign ran in the Black press from 1949-1958. The Baker family ad first appeared in newspapers, including Baltimore Afro-American and Los Angeles Sentinel. (1)
This ad expands the postwar ideal of togetherness I'm discussing with students in my American 1950s classes. Nestling the nuclear family within the comforts of home leisure, the era's images of togetherness tended to show a small family circle. TV sitcoms such as The Adventures of Ozzie and Harriet and Leave It to Beaver focused on white suburban families.
In this Baker family photo album, three generations gather in the living room and at the dinner table. The ad copy opens its family circle to a larger urban community of jobs and civic activities. Leading "a happy, busy life," such Pet Milk families rarely stood still. (Houston A. Baker, Jr. appears in the center photo wearing boxing gloves.)
The Happy Family campaign portrays a modern domesticity for African Americans. Here Viola Baker manages the home by bringing the convenience and cost-effectiveness of canned milk into her meal planning. All three sons were "Pet Milk Babies." The ad projects the Baker family's domestic life in wide scope, combining household, community, corporate, and national identities.
Finally, Professor Baker's response to seeing the ad again:
I now see the Pet Milk advertising campaign in a whole new light. What took my breath away was the enormous accomplishment of my parents. Where did they find motivation, time, and commitment to engage so many important, foundational tasks? They were builders and sustainers of black community. The visuals of the Baker home interior are captivating. They stage and capture "black domesticity" at its apex: smartly wardrobed, generationally strong, and productive of fit generations to emulate the genealogy of their parents. Who would not buy Pet Milk?
I grew up in a warm, stable home. Our residence was located in a racially-segregated Louisville, Kentucky. Home, togetherness, and resources garnered from our parents' labors were both "togetherness" and safe-haven. They were refuge from racially-charged violence that might assault one at any "outside" moment.
As I consider the disproportional African American poverty of the U.S.A. today and reflect on the relentless inside-and-outside assaults on Black America at the present time, I know I was blessed with an exceptional family. When there is a segregated and endangered public sphere of violence against the black body, it is fortunate indeed to share a black instructive togetherness within. Certainly the Baker household's scenes of instruction were paramount in my journey toward scholarship and the professoriate that is my place of work today.
–MB and Houston A. Baker, Jr.
Sources:
(1) Kimberley Mangun and Lisa M. Parcell, "The Pet Milk Company 'Happy Family' Campaign." Journalism History 40.2 (Summer 2014): 70-84.
(2) Pet Milk ad from MB research files