Casting Hearts: The Yeats Effect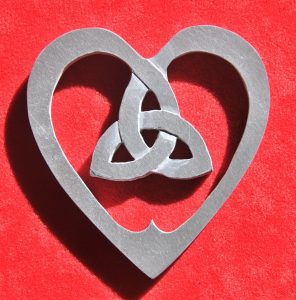 If hearts are trump for German minimalist band Trio, hearts were more complicated for Irish poet W. B. Yeats. Dolores O'Riordan captured some of that complexity in her lyrics to the Cranberries' song "Yeat's Grave," which riffs on one of his many poems that replayed his unrequited love for Maud Gonne: "No Second Troy" (1910). Here he renders her as the Classical figure Helen :
     Why should I blame her that she filled my days
     With misery…
Yeats wasn't just wearing his heart on his sleeve in this poem. He's showing how hearts can transcend their breaking when we elevate our beloveds to mythical status–and reassign agency to forces beyond our control. Yet even this rich tension does not quite capture the dynamics of hearts in Yeats's poems.
Looking back on his career in "The Circus Animals' Desertion" (1939), Yeats felt that his knack for creating "masterful images" was tapped out. Here he rejects elevation for the everyday, transforming the heart into a junk shop that can restore a vital creativity:
     Now that my ladder's gone,
     I must lie down where all the ladders start,
     In the foul rag-and-bone shop of the heart.
The poem stops here, but more poems will follow. In the alchemy of the heart, we can rebuild from remnants. We can create new things from cast-off things.
On this Valentine's Day, I turn to the Yeats Effect to tap the heart-beats in his poems. For Yeats reminds us that what we call the heart is authentic and artificial, individual and social, vulnerable and durable. Consider "To Ireland in the Coming Times" (1892), which culminates in an expansive heart that connects readers to Celtic past and uncertain future. The speaker renders this heart with the force of a bold action (fishing), and the stasis of a monument (molding):
     I cast my heart into my rhymes,
     That you, in the dim coming times,
     May know how my heart went after them
     After the red-rose-bordered hem.
The poem does not cast off the heart, but propels it backward and forward through its durable, four-beat couplets. It places a bet, risking its heart. Do we take this heart as Yeats's own? Casting also means assigning roles to actors. The Yeats Effect is cagey in playing its hearts.
Tracking back to another early poem, "The Lake Isle of Innisfree" (1892), we find the heart in yet another closing line. This time the speaker is alone in the city while heartbeats transport him elsewhere:
     I will arise and go now, for always night and day
     I hear lake water lapping with low sounds by the shore;
     While I stand on the roadway, or on the pavements grey,
     I hear it in the deep heart's core.
Shifting from the personal pronoun I to the definite article, the poem sounds a collective heart through which the speaker is no longer alone. The Yeats Effect transports poetic hearts into larger dimensions than love poems. The deep heart enfolds us all.  –MB