ArchiTextures: Stories and Stanzas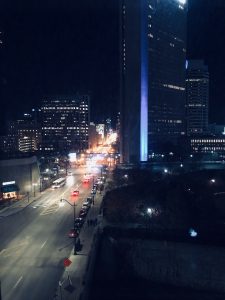 When a building stands complete and in use, it seems to want to tell you about the adventure of its making. – Louis I. Kahn
What manner of building shall we build? –Wallace Stevens, "Architecture"
I'm in my nine-windowed room in downtown Columbus, OH, where this year's Modernist Studies Association conference just wrapped. It's a generative space for thinking about the poetics of architecture and my opening conference session: the Modern Architecture & Narrative seminar co-organized by Katherine Fama and Anne Fogarty of University College Dublin. (They formed the Architecture and Narrative research group).
In these times of STEM-driven models of higher education, Humanities work tends to signify as narrative-based knowledge that brings storiesto data. Architecture reminds us that stories are also material levels of a building. And like poems, architecture also manifests in discrete units called stanzas: a mode of making that includes yet moves beyond narrative structures.
The seminar's papers expanded the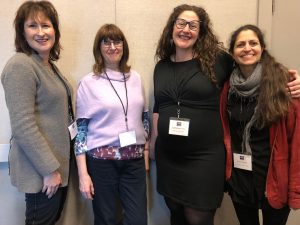 word narrative to include fiction, urban and cultural history, and the history of architecture as a discipline. Some of the seminar participants were educated as architects; invited speaker Kirin Makkar teaches in a department of Architectural Studies. (Co-organizers Fogarty & Fama appear here in the center, flanked by invitees Victoria Rosner & Makkar.) We brainstormed the powers & limits of collaboration, "the architectural Humanities," domesticity, iconoclasm, functionalism, city planning, fabrication, flanerie, spatiality. We went beyond architecture as metaphor. I told the story of my recent undergraduate course Modern American Poetry & Design, which linked to a Design Studio course in UF's School of Architecture. (I brainstormed this parallel pedagogy with Charlie Hailey.)
For me, entering UF's Architecture Teaching Gallery is like entering a modernist poem in the process of its own making. I recall Wallace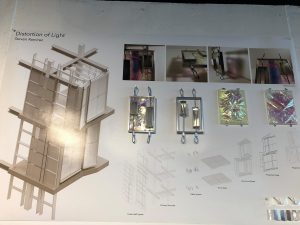 Stevens's phrase stanza my stone in "The Man on the Dump"–a modernist rendition of repurposing and Makerspace platforms. And so I offer these ArchiTextural building blocks toward new concepts, new structures, new pedagogies:
* The narrative of modernist writing and architecture is modular, not linear. 
* For modernism and design manifest process; architecture becomes a verb.
* A building is a structure and a making.
* The city's physical, social, and mythic spaces generate modernist writing and architecture.
* The route of modernist poetry and architecture is repurposing.
* The ethics of modernist poetry and architecture is sustainability.
* For the domicile and the junkyard are generative spaces for dreaming and design.
* Poets, architects, and new modernist pedagogies create Maker Spaces.
* ArchiTextures generate designs for future Humanities.
SOURCES:
Louis I. Kahn, "Silence and Light." 1970.
Wallace Stevens, "Architecture." 1918.
Window scene, Hilton Columbus Downtown. 2018
Architecture and Narrative seminar at MSA 2018
Steven Ramirez, "Distortion of Light." 2018. (Assembly Matters, Mediation of Light and Mediation on Matter. UF Advanced Graduate Studio 1, taught by Lisa Huang)
Lissandra Dyer, "Door Hinge." 2018. (Modern American Poetry & Design, taught by MB)
–MB