Tidying Up with Gertrude Stein
Tidiness is not a delicacy… Gertrude Stein, Tender Buttons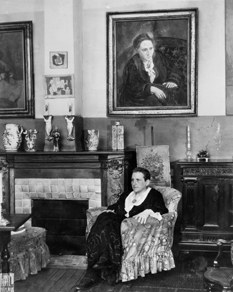 What serendipity teaching Tender Buttons again during a week I'm also watching the Netflix sensation Tidying Up with Marie Kondo. Doyennes of domesticity, Stein and Kondo make the home and its objects come alive in unexpected ways. Their revolutionary household manuals are 100 years apart. To tidy up our households, Kondo tells us, we must make a bigger mess of them. To establish her household, Stein counters the establishment. Both women disrupt standard thinking about housekeeping.
Animation
The house and all things within it come alive in Kondo's and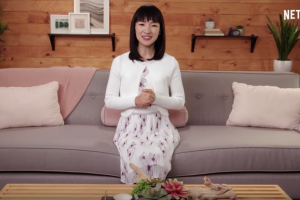 Stein's visions of domesticity. If you've seen Kondo's show, you've seen her ritual of greeting the client's home. When tidying clothes we must touch each item–and thank those we don't keep. When tidying books, she instructs, we must tap each stack to wake them up. Kondo's book insists that your possessions want to help you. Stein also has a singular way of perceiving clothes and accessories. 'A Long Dress' acquires the serene length that renders it an object of meditation. Animating 'Colored Hats' and transforming their textures, Stein writes: A large hat is tall and me and custard whole. The hat becomes her.
Repurposing
Thinking outside the box with boxes, Stein and Kondo repurpose these ordinary household objects into ordering strategies. Kondo uses small boxes as drawer dividers that suit tidied items such as neckties and socks. The boxes your iphones and MacBooks came in are perfect for storing writing tools, while shoeboxes have infinite uses. Did you know that the lid of a shoebox is shallow and can be used like a tray? Stein would agree that a box is never just a box: A custom which is necessary when a box is used and taken is that a large part of the time there are three which have different connections. Like Kondo's drawer dividers, Stein uses boxes to partition a whole. Parts of Tender Buttons are divided into labeled text boxes, including 'A Plate,'  'A Chair,' 'A Box'–tools for writing about the house.
Results
Tidying up yields domestic delights and new ways of living. In The Life-Changing Magic of Tidying Up, Kondo declares that a dramatic reorganization of the home causes correspondingly dramatic changes in lifestyle and perspective. That reanimating perspective starts with reenvisioning everyday objects and household relationships. Tender Buttons responded to Stein's dramatic reorganization of her expatriate life in Paris. With her brother out of the apartment, Stein and her life partner Alice B. Toklas set up a household where Stein could pursue her experimental writing within a liberating domesticity.
Toward the end of her book, Stein writes: Tidiness is not a delicacy, it does not destroy the whole piece, certainly not it has been measured and nothing has been cut off and even if that has been lost there is a name, no name is signed and left over, not any space is fitted so that moving about is plentiful. Moving freely across normative syntax, Stein's words reflect the transformative abundance of her home.  –MB
SOURCES
Gertrude Stein, Tender Buttons (1914)
Marie Kondo, The Life-Changing Magic of Tidying Up: The Japanese Art of Decluttering and Organizing (2014)
Stein photo: The New Yorker; Kondo photo: BestLife