Punk Country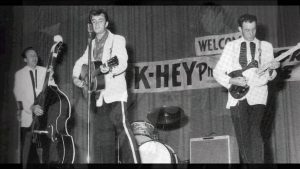 Tennessee Two, that's like a punk band. –Elvis Costello
Ken Burns's Country Music documentary wrapped its PBS broadcast last week, and now you can binge it. I didn't expect the punk strains that broke through the film's mashup of blues, bluegrass, gospel, rockabilly, honky tonk, Bakersfield and Nashville sounds. The resistance through style that Dick Hebdige attributes to British punk and its formative subcultures forms a powerful subtext.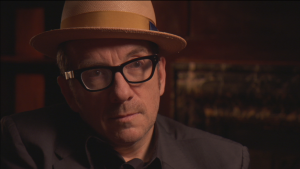 * What's the punk Elvis doing in a documentary about Country music? Episode 4 brings Johnny Cash to Memphis, where his Tennessee Two practiced with a borrowed guitar and a bass that Marshall Grant was just learning how to play. Elvis Costello lays claim to the band's stripped-down sound: The bass is so percussive and Luther Perkins just playing, like the 4 notes…I literally think they sound like punk rock records. The band is a prototype of punk's DIY aesthetic. Episode 5 gives a shout-out to Costello's recent collaboration with Loretta Lynn, "Everything It Takes." (hear it here)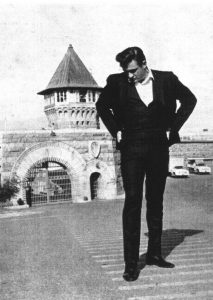 *Did Johnny Cash traffic in Teddy Boy style? Episode 5 also features Cash's breakthrough performance at Folsom Prison in 1968. The live album reinfused  Country music with grit. But what about that classic three-piece suit Cash wore for the photo shoot? Might the black jacket's red lining and the double-breasted vest constitute a sartorial exotica akin to the previous decade's London Teds–and anticipate its revival in the 1970s? Cash's pose here accentuates his streamlined dandyism.
*Is that Ziggy Stardust hair on Rosanne Cash's 1985 album cover? That spiky burst of red on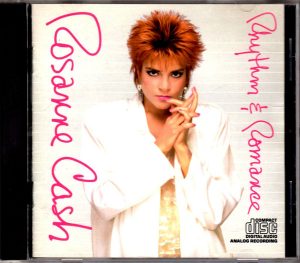 Rhythm & Romance traffics in Bowie's Glam Rock dandyism. In Episode 8 Rosanne talks about how her LA style clashed with Nashville's when she moved there in 1981: I had purple hair. I was a little bit streetwise, urban girl . . . you know, brazen. If the Carters were the First Family of Country music, Johnny and Rosanne Cash are the First Family of Punk Country.
* Is the Queen of Rockabilly the grandmother of Punk? Episode 4 features Wanda Jackson's riotous performance on Town Hall Party in 1958. Jackson smashed the era's expectations of women musicians–she fronted her band. Introducing "Hard Headed Woman" as one of the most beautiful love songs that's ever been written, she lays down her hard driving guitar licks and vocals. Jackson entered the Rock and Roll Hall of Fame in 2009. Would we have front women Patti Smith, Chrissie Hynde and Joan Jett without Wanda Jackson and her punkabilly style? Would we have the fierceness of k.d. Lang, whom the documentary dubs a punk reincarnation of Patsy Cline? Insurgent Country plots its roots through a line-up of male musicians. Any history of Punk Country must account for its long line of radical women. – MB
SOURCES:
Country Music, A Film by Ken Burns.
Liza Corsillo, "TBT: When Johnny Cash Suited-Up for His Legendary Folsom Prison Concert." GQ 1.14.16
Dick Hebdige, Subculture: The Meaning of Style. 1979.