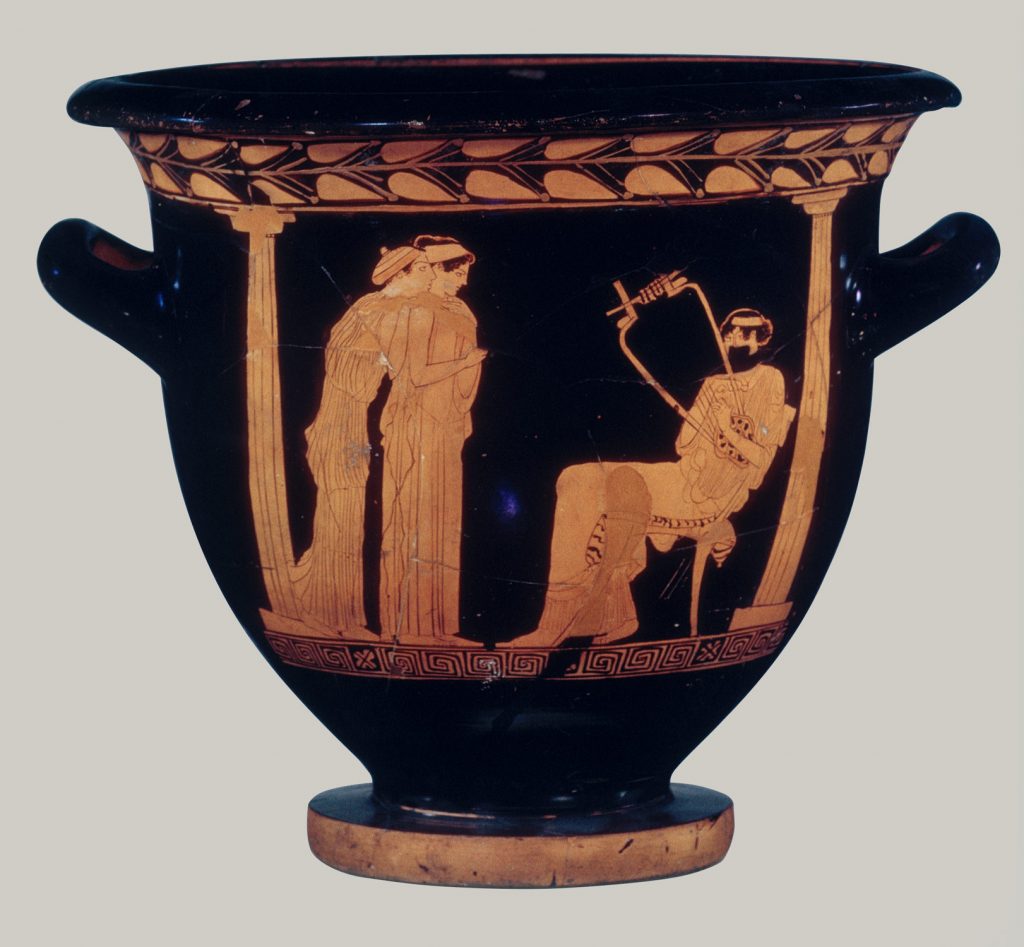 Course Number: GRW 6345. Section: 03DF. Credits: 03. Room: CBD 0224. Times: R 3-5 (Thursdays 9:35 am to 12:35 pm). GRW 6345 is a course offered in the Department of Classics at University of Florida. Department contact: Ms. Tina Williams.
Course Description
Readings from selected lyric authors, with attention to the variety and peculiarities of lyric content, style, grammar, structure, dialect, and meter.
Textbooks and Other Study Aids
D. Campbell, Greek Lyric Poetry (Bristol Classical Press.)
Additional course materials: please log on to Canvas.
Additional readings will be distributed by the instructor at orientation and during the course.
Course Requirements and Grading
Prerequisites. Knowledge of ancient Greek at the advanced level.
Test I (Translation of 3 passages from the readings covered in sessions 1-6): 30%.
Test II (Translation of 3 passages from the readings covered in sessions 1-11): 30%.
Class Performance (inclusive of one oral presentation on a topic to be determined with the instructor): 40%.
Test format: 2 take-home translation tests (4 passages, choice of 3; maximum time 3 hours.) The tests will be be emailed at beginning of the examination periods indicated below. Further instructions will be provided with the tests.
Grading Rubric for Translations.
Attendance and General Course Policy
Attendance. Students are required to attend class regularly.
Honor Code. Students in GRW 6345 are expected to comply with the Academic Honor Code of the University of Florida (see also the section on Academic Honesty in the Graduate Catalog.)
ADA Requirements
Students requesting classroom accommodation must first register with the Dean of Students Office. The Dean of Students Office will provide documentation to the student who must then provide this documentation to the Instructor when requesting accommodation. For information about services available to students with special needs, contact the Disability Resource Center.
Course Evaluations
Students are expected to provide feedback on the quality of instruction in this course based on 10 criteria. These evaluations are conducted online at https://evaluations.ufl.edu. Evaluations are typically open during the last two or three weeks of the semester, but students will be given specific times when they are open. Summary results of these assessments are available to students at https://evaluations.ufl.edu/results."
Calendar (can be modified during the course)
Testing weeks: Test I, October 9 – October 13. Test II, December 11 to December 15. Completed tests must be submitted by midnight on the due date.
| | | |
| --- | --- | --- |
| 01 | AUG 24 | ORIENTATION |
| 02 | AUG 31 |  Early lyric: Archilochus (pp.1-8) |
| 03 | SEP 07 | Elegy and Iambus 1: Callinus (pp.8-9) Tyrtaeus (pp.9-12) Theognis (pp.79-87) Scolia (pp.132-135) Solon (pp. 29-32) |
| 04 | SEP 14 | Elegy and Iambus 2: Theognis (pp.79-87) Scolia (pp.132-135) Solon (pp. 29-32) |
| 05 | SEP 21 | Elegy and Iambus 3: Theognis (pp.79-87) Scolia (pp.132-135) Solon (pp. 29-32 |
| 06 | SEP 28 | Elegy and Iambus 4: Anacreon (pp.67-73) Hipponax (pp.87-89) |
| 07 | OCT 05 | The Aeolic poetic tradition 1: Sappho (pp.40-52)  Alcaeus (pp.52-62) |
| 08 | OCT 12 | The Aeolic poetic tradition 2: Sappho (pp.40-52)  Alcaeus (pp.52-62) |
| 09 | OCT 19 | Doric choral lyric 1: Alcman (pp.18-27) |
| 10 | OCT 26 | Doric choral lyric 2: Alcman (pp.18-27) |
| 11 | NOV 02 | Other choral lyric 1: Simonides (pp.92-95 frags.542-543) Bacchylides (pp.119-127 frags. 17-18) |
| 12 | NOV 09 | Other choral lyric 2: Simonides (pp.92-95 frags.542-543) Bacchylides (pp.119-127 frags. 17-18) |
| 13 | NOV 16 |  TBA |
| 00 | NOV 23 | THANKSGIVING RECESS |
| 14 | NOV 30 | TBA |