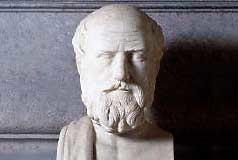 Required Texts (available online)
Liddell, H.G., and Robert Scott, eds., Greek-English Lexicon, 8th ed. (Oxford: Oxford University Press, 1897).
Smyth, Herbert W., Greek Grammar (Cambridge: Harvard University Press, 1956).
Adams, Charles Darwin, Lysias: Selected Speeches (New York: American Book Company, 1905).
Course Description
Reading of select speeches of Lysias and Demosthenes to help students increase their understanding of Greek, gain a greater appreciation for Attic prose, and translate with more ease.  Particular attention will be given to the political and social context of the dispute, the rhetorical methods that speakers use to persuade an Athenian jury, and the theories and methods that modern scholars apply to the corpus of Attic orators.
Course Requirements
Class Participation (15%) based on attendance, participation in class discussions, and translation of daily assignments.  No unexcused absences.
Two Hourly Examinations: February 12 (30%), and March 31 (30%).  All exams are "closed book."  No study aids may be used during exams.
One Term Paper (25%), due on April 21 approximately 2,500 words (excluding footnotes and bibliography).
Assignments
From January 7-March 31, translation of select speeches of Lysias and Demosthenes (approximately 4-6 OCT pages per week, depending on the difficulty of the text and the pace of the class).
From April 1-21, research and review of modern scholarship on the Attic orators, Athenian courts,  and the political and social history of early fourth-century Athens.
Grading Scale
A = 90-100
A- = 87-89.9
B+ = 84-86.9
B = 80-83.9
B- = 77-79.9
C+ = 74-76.9
C = 70-73.9
C- = 67-69.9
D+ = 64-66.9
D = 60-63.9%
D- = 57-59.9
E < 57
Grading Policy
Students are expected to complete all requirements on the specified dates and will not be granted an alternate date unless they have an acceptable reason for their absence as specified in the graduate catalog, fulfill the conditions described therein, and provide timely notification.  See Attendance Policies.
Use of mobile phones and computers are prohibited during lectures.  Refusal to comply will result in immediate dismissal from the classroom.
Students are required to be honest in their coursework. Any act of academic dishonesty will be reported to Student Judicial Affairs, and may result in failure of the assignment in question and/or the course.  See Honor Code.
Students seeking special accommodations, need to submit such requests to the Disability Resource Center prior to the deadline of the scheduled requirement, and preferably as early in the Semester as possible.  For further information, see the Disability Resource Center.
Students facing difficulties completing the course or who are in need of counseling or urgent help may call the on-campus counseling center at 352-392-1575. U Matter We Care also has resources and can be reached at 352-294-CARE or by email at umatter@ufl.edu.