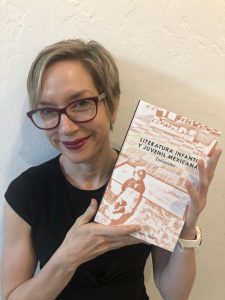 Emily Hind
Professor
Areas of Interest/Research
Mexican Studies (Literature, Film, Culture, Politics, History)
Latin American Literature and Film
20th- and 21st- Century Critical Approaches within the Interdisciplinary Humanities
Background
Emily Hind is a Fulbright scholar, Professor of Spanish, and the author of Dude Lit: Mexican Men Writing and Performing Competence, 1955-2012 (University of Arizona, 2019), which received honorable mention for Best Book in the Humanities 2019 from the Mexico Section of Latin American Studies. She has also published Femmenism and the Mexican Woman Intellectual from Sor Juana to Poniatowska: Boob Lit (Palgrave Macmillan, 2010). Her third book of interviews, Literatura infantil y juvenil: Entrevistas (Peter Lang 2020) gathers 22 conversations with writers and editors of children's and young adult literature in Mexico.
Dr. Hind completed a Fulbright award to teach and study with the Universidad Veracruzana in Xalalpa, Mexico in June 2015, which complemented her previous three years as faculty in Mexico City with the Universidad Iberoamericana. She has won the Top Lit Prof in Spanish from the grad students at UF twice, and in 2005 she won the Feministas Unidas Essay Prize with an article on Rosario Castellanos, published in Letras Femeninas. Hind is the book review editor for the journal Chasqui. 
She has written numerous articles on Mexican literature and film, with concentrations on topics such as energopower, sustainabiltiy, disability studies, children's literature, and celebrity culture. Living writers studied in her recent projects include Jazmina Barrera, Ave Barrera, Jaime Alfonso Sandoval, Antonio Malpica, Mónica Brozon, Julián Herbert, Carlos Velázquez, Carla Faesler, Alberto Chimal, María Baranda, María Rivera, Guadalupe Nettel, Vivian Abenshushan, Mario Bellatin, Sabina Berman, Carmen Boullosa, Bernardo Esquinca, Guadalupe Loaeza, Cristina Rivera Garza, and many more.
She is currently writing a book on plant studies and petroculture (oil culture) under contract with Vanderbilt University Press.
Guest lecturers to the Department whose talks related to Hind's coursework:
[slated] Spring 2022 Latin Americanist critic Rebeca Hay-Colón, Temple University
[slated] Fall 2021 Mexican author Julián Herbert
[slated] Fall 2021 Mexicanist critic Carolyn Fornoff, University of Illinois at Urbana-Champaign
[slated] Fall 2021 Mexicanist critic Brian Gollnick, University of Iowa
Spring 2020, Mexican author Cristina Rivera Garza
Fall 2019, Mexicanist critic Laura Torres Rodríguez, New York University
Spring 2019, Mexicanist critic Sophie Esch, Rice University
Spring 2018, Crack Writers Jorge Volpi, Pedro Ángel Palou, Eloy Urroz, and the Mexican author Laury Leite
Fall 2017, Mexicanist critic Rebecca Janzen, University of South Carolina
Spring 2017, Mexicanist critic Laura Gutiérrez, University of Texas, Austin
Fall 2016, Mexicanist critic Ignacio Sánchez Prado, Washington University; Mexican novelists and poets Carla Faesler.and Carmen Boullosa; Puerto Rican novelist and short story writer Mayra Santos Febres.
Spring 2016, Mexican author Karen Chacek and Mexicanist scholar Sara Potter, University of Texas, El Paso.
Fall 2015, Mexican author Luis Felipe Lomelí and Mexicanist scholar Ilana Luna, Arizona State University.
Books:
Contact Information
Email: ehind@ufl.edu
Phone: (352) 392-5897
Office: 362 GRI
Office Mailing Address
170 Dauer Hall
PO Box 117405
Gainesville, FL 32611