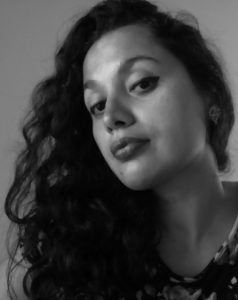 Jillian Hernandez
Associate Professor
https://www.jillianhernandez.com/
https://linktr.ee/jillianhernandez
Areas of Interest/Research
Sexualities and Race
Visual Culture, Art History, and Performance Studies
Critical Girlhood Studies
Ethnic Studies, Latinx Studies, and Black Studies
Hip Hop, Media, and Cultural Studies
Black and Latina Feminisms
Biography
Jillian Hernandez studies the autonomous aesthetics and sexualities of Black and Latinx people. Her scholarship crosses the fields of art history, performance, gender, ethnic, Latinx, and Black studies, and is informed by her work as a community arts educator, curator, and cultural producer. Her book Aesthetics of Excess: The Art and Politics of Black and Latina Embodiment, published by Duke University Press, traces how the body practices and art making of Black and Latinx women and girls are intertwined, and how their creative work complicates conventional notions of cultural value and sexual respectability. She is an Associate Professor in the Center for Gender, Sexualities, and Women's Studies Research at the University of Florida and is currently organizing an exhibition featuring the work of Pamela Council, Yvette Mayorga, and Kenya (Robinson) for the Flaten Art Museum. Her work has appeared in Women and Performance: A Journal of Feminist Theory, American Quarterly, Signs: Journal of Women in Culture and Society, and the Journal of Popular Music Studies, among other venues. Her scholarship is based on and inspired by over a decade of community arts work with Black and Latinx girls in Miami, Florida through the Women on the Rise! program she established at the Museum of Contemporary Art in North Miami in addition to her practice as an artist and curator. 
Contact Information
Email: jillianhernandez@ufl.edu
Phone: (352) 273-0380
Mailing address: PO Box 117352, Gainesville, FL 32611
Publications
Aesthetics of Excess: The Art and Politics of Black and Latina Embodiment, Duke University Press, 2020
Honorable Mention, Emily Toth Award for Best Single Work in Women's Studies, Popular Culture Association
"Radical Pink: The Aesthetics of Visionary Black Girlhood in Sadie Barnette's 'Dear 1968…' and Black Sky." Visual Arts Research Vol. 47, No. 1, 2021
"Fugitive State: Toward a Cimarrona Approach to Florida Cultural Studies." Departures in Critical Qualitative Research, Vol. 10, No. 2, 2021
"Racialized Sexuality." In Oxford Research Encyclopedia of Literature. Oxford University Press. Article published February 2020. doi:http://dx.doi.org/10.1093/acrefore/9780190201098.013.346
"Queer of Color Spacemaking in and Beyond the Academic Industrial Complex," co-authored with Jin Haritaworn, Paola Bacchetta, Tiffany Willoughby-Herard, Fatima El-Tayeb, S.A. Smythe, and Vanessa Thompson, Journal of Critical Ethnic Studies, Vol. 4, No. 1, 2019
"Beauty Marks: The Latinx Surfaces of Loving, Becoming, and Mourning," Women and Performance: A Journal of Feminist Theory, Vol. 28, No. 1, 2018
"The Ambivalent Grotesque: Reading Black Women's Erotic Corporeality in Wangechi Mutu's Work," Signs: Journal of Women in Culture and Society, Vol. 42, No. 2, 2017
 "Sexual Knowledge and Practiced Feminisms: On Moral Panic, Black Girlhoods, and Hip Hop," co-authored with Christina Carney and Anya M. Wallace,  Journal of Popular Music Culture, Vol. 28, Issue 4, 2016
"Disruptions in Respectability: A Roundtable" Souls: A Critical Journal of Black Politics, Culture, and Society, co-authored with Jennifer Nash, Ariane Cruz, Xavier Liverman, Kaila Story, and Mali Collins-White, Vol. 18, Issues 2-4, 2016
"Carnal Teachings: Raunch Aesthetics as Queer Feminist Pedagogies in Yo! Majesty's Hip Hop Practice," Women and Performance: A Journal of Feminist Theory 24 (1), 2014.
"Sexing Sculpture: New Approaches to Theorizing the Object" (editors' introduction co-authored with Susan Richmond), Art Journal Winter, 2014
"Meditations on the Multiple: On Plural Subjectivity and Gender in Recent New Media Art Practice." Lateral, Journal of the Cultural Studies Association 1 (2):  http://lateral.culturalstudiesassociation.org/issue2/theory/hernandez/. Special issue "In Search of Digital Feminisms" edited by Katherine Behar and Silvia Ruzanka, 2013.
"'Miss, You Look Like a Bratz Doll': On Chonga Girls and Sexual-Aesthetic Excess." National Women's Studies Association (NWSA) Journal 21 (3): 63-91, 2009. Special issue on Latina Sexualities edited by Lourdes Torres and Lorena Garcia.
[PEER REVIEWED] "Chongivity Activity: Latinx Hyperfemininity as Iconography, Performance, and Praxis of Belonging," in Critical Diálogos in Latina/o/x Studies. Edited by Ana Y. Ramos Zayas and Mérida M. Rúa. New York: New York University Press, forthcoming 2021.
[PEER REVIEWED] "The Book of Joy: A Creative Archive of Young Queer Black Women's Pleasures" (co-authored with Anya M. Wallace), in Black Sexual Economies: Race and Sex in a Culture of Capital. Edited by Adrienne D. Davis and the BSE Collective. Urbana, Chicago, and Springfield: University of Illinois Press, 2019.
"'Chongas' in the Media: The Sexual Politics of Latina Girls' Hypervisibility" in Girls' Sexuality in the Media. Edited by Kate Harper and Vera Lopez. New York: Peter Lang, 2013.
"Makeup on the Face of the Father: Recent Work by Rachel Lachowicz" in Rachel Lachowicz. Book co-authored with Amelia Jones and George Melrod. New York: Marquand Books/Distributed Art Publishers, 2013.
[PEER REVIEWED] "On Visual Politics and Poetics: Incarcerated Girls and Women Artists" in Razor Wire Women: Prisoners, Activists, Scholars, and Artists. Edited by Jodie Michelle Lawston and Ashley E. Lucas. Albany, NY: State University of New York (SUNY) Press, 2011.
"Performing Identity in Miami: A Case Study of Women Artists" in Florida Without Borders: Women at the Intersections of the Local and the Global. Edited by Sharon Kay Masters, Judy A. Hayden, and Kim Vaz. Newcastle upon Tyne, UK: Cambridge Scholars Publishing, 2008.
 Creative writings, media articles, and reviews
(Exhibition Review) Per(sister): Incarcerated Women of Louisiana. CAA Reviews (College Art Association), December 18th, 2019. http://caareviews.org/reviews/3627#.Xlw8_RNKhHQ
"Raunch Aesthetics as Visceral Address: (MORE) Notes from a Voluptuary," Pastelegram (Online Issue 11), http://pastelegram.org/y/kegels-for-hegel/raunch-aesthetics Special Issue, "Sexing Up Social Theory," 2015
"Nicki Minaj and Pretty Taking All Fades: Performing the Erotics of Feminist Solidarity," co-authored with Anya M. Wallace, The Feminist Wire, March 6, 2014 http://thefeministwire.com/2014/03/minaj-erotics/
(Book Review) "Disruptive Girlhoods" in Feminist Collections: A Quarterly of Women's Studies Resources 28 (4): 23-28, 2007.