Paula Golombek
Clinical Professor of Linguistics
TESL Certificate Program Coordinator
Undergraduate Adviser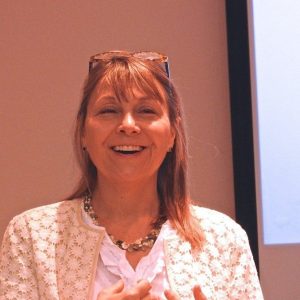 Areas of Interest/Research
Teacher Learning in L2 Teacher Education
Sociocultural Perspectives on L2 Teacher Professional Development
Language Teacher Narrative Inquiry as Professional Development
Language Teacher Identity
Background
The Pennsylvania State University Ph.D. (1995)
Speech Communication
The Pennsylvania State University MA (1990)
Teaching English to Speakers of Other Languages
Boston College MA (1986)
Political Science
Regis College BA (1983)
Major in Political Science; Minor in Spanish
Catholic University (Summer 1985)
Lublin, Poland
Contact Information
Email: pgolombek@ufl.edu
Phone: (352) 294-7459
Office: 4131F TUR
Since we have to be off campus starting Monday and with registration on the horizon, I wanted to lay out how we can communicate over this period of time.  Please do not hesitate to contact me!!  I know you may have concerns about your audit, etc. so we can communicate through several modes.  If you have specific paperwork, we will deal with it as it comes up.
1) Email me–if we can answer your questions via email, this is super convenient.  Please note that due to FERPA concerns, you must email me from your UFL email.
2) ZOOM office hours–if you prefer to talk, please come see me during my virtual office hours on Tuesday.  Please see the url before you'll need.  Please have picture ID handy to show even if I know you.  We have to follow FERPA guidelines, so I want to be consistent and fair across all meetings.
Tuesday office hours: 1-3
https://ufl.zoom.us/j/504892863
Mailing address:
PO Box 115454Gainesville, FL 32611-5454