Health-Smart Church Center (HSCC) Program
---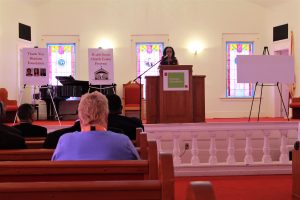 This Health-Smart Church Center (HSCC) Program is a church-centered program designed to promote and sustain healthy behaviors, reduce overweight/obesity and hypertension, and increase well-days among members of participating black churches and their communities. This program aims to address health disparities in the urban core of Jacksonville, Florida (Duval County). This area contains one of Jacksonville's most at-risk communities. It has a large minority population and a notably high poverty level. The two-phase program addresses various health concerns prevalent in Duval County including, but not limited to: adult obesity and stroke, poor mental health, inability to access health care, and food deserts. The two phases are:
Phase I: Implementation of the Health-Smart program at churches in an underserved community for members at risk for obesity and related illnesses and;
Phase II: Creation and establishment of a HSCC at each church as an infrastructure to sustain and promote Health-Smart behaviors and activities to community members.
The Health-Smart Research and Intervention Team in Gainesville and Jacksonville will work with local health professionals and church leaders to create a sustained, no-cost, customized, and culturally sensitive infrastructure managed and maintained by community members as site for health promotion, resources, and services.
Health-Smart Behavior Program at Health Department
---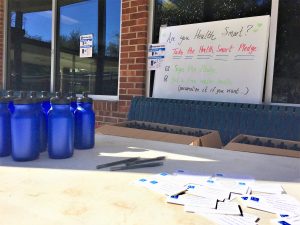 The Health-Smart Behavior ProgramTM (Health-Smart) at the Alachua County Health Department addresses the fact that overweight and obesity among adults in the United States have reached epidemic levels, are linked to several chronic diseases, and disproportionately impact racial/ethnic minorities, people with low incomes, and people living in rural communities. Health-Smart at the Alachua County Health Department is a health promotion intervention designed to increase engagement in "Health­Smart" behaviors (i.e., healthy eating, physical activity, and behaviors that improve sleep quality and reduce stress, anxiety, and depression) among overweight or obese adult patients in Alachua County. The 2012 Alachua County Health Profile reports that approximately 60% of Alachua County adults are overweight or obese. Thus, there is a need for overweight and obesity interventions targeting Alachua County adults. Participants will be randomly assigned to one of three intervention groups:
Group 1 participants will experience an individualized goal setting session, support from a family member or friend, telephone support from a research assistant, and two, 3­hour workshops that focus on increasing Health­Smart behaviors.
Group 2 participants will experience all Group 1 interventions except the workshops.
Group 3 participants will experience all Group 2 interventions, but will be sent a reminder text or email messages, instead of receiving telephone support from a research assistant. Data collected from participants include height, weight, blood pressure, and their responses to questionnaires that assess healthy eating, physical activity, and health­related quality of life.
The goal of the project is to focus on increasing engagement in Health­Smart behaviors among overweight and obese Alachua County Health department patients, thus positively impacting their health outcomes.
School-Wide Health-Smart P.K. Yonge
---
School-Wide Health-Smart P.K. Yonge is a school-based, culturally sensitive study designed to promote healthy eating, healthy drinking, and physical activity (i.e., Health-Smart behaviors) among all students in grades K-12, teachers, administrators, and staff at the P.K. Yonge Developmental Research School. The research study is being conducted by Dr. Carolyn M. Tucker and her research teams at the University of Florida. It aims to empower P.K. Yonge to set and achieve healthy eating and physical activity goals. Data is collected via questionnaires to determine motivators of and barriers to healthy behaviors and the frequency of engagement in healthy behaviors. Collaborative, goal-setting sessions are then conducted to identify Health-Smart goals for the P.K. Yonge community from the following categories: a) healthy eating, b) healthy drinking, and c) physical activity. School-wide, goal attainment activities are implemented to learn more about ways to eat healthier and be more physically active. Families support and praise their children as they work toward their Health-Smart goals. The purposes of School-Wide Health-Smart P.K. Yonge are to help all P.K. Yonge students and faculty set and reach Health-Smart goals and raise participants' awareness of the benefits of healthy eating, healthy drinking, and physical activity.