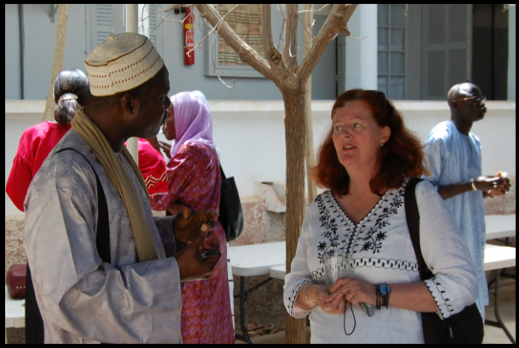 RESEARCH
I work on the sociolinguistics of multilingualism and language contact in urban West Africa, the Sahara, and the Maghreb, and on the phonology and morphology of the Atlantic  languages, especially Wolof, Pulaar and Sereer.
My sociolinguistic interests center on the ways in which outcomes of language contact are modulated by societal considerations such as urbanization, Islamization, and (colonial and postcolonial) power relationships between speakers of various languages, and I am particularly interested in urban ways of speaking and in the sociolinguistics of everyday writing in African languages.
My formal linguistic interests include consonant mutation and its interaction with other phonological processes such as reduplication and loanword adaptation; noun classification; and Fula prosody across dialects. Much of my work in these areas can be viewed on my publications page.
My research is based on extensive fieldwork in West Africa and has been funded by the Wenner-Gren Foundation, the National Endowment for the Humanities, the American Council of Learned Societies, Fulbright, the National Science Foundation, and the Camargo Foundation, as well as by several UF internal grants.  I am a former Director of the West African Research Center in Dakar, Senegal, and I  have taught at the Université Abdou Moumouni in Niamey, Niger and at the Université Gaston Berger in Saint-Louis, Senegal.
Recent and upcoming talks:
UPCOMING: "The words the desert holds."  To be presented at the workshop and public symposium Desert Futures: Sahara. Whitney Humanities Center, Yale University. New Haven, CT.  April 24-26, 2020.
UPCOMING: 'Vernacular writing in the trans-Sahara."  University of Florida Linguistics Department Seminar.  February 24, 2020 at 3pm.  FLG (Florida Gym) 0260.
"Vernacular urbanism in Dakar"  Sawyer Seminar, "Claiming the City: Urban Citizenship, Hybrid Cultures, and Governance in the Modern Era."  University of California San Diego. January 17, 2020.
"Ajami as an everyday writing practice."  62nd Annual Meeting of the African Studies Association.  Boston. November 21-23, 2019.
"La laïcité parle-t-elle l'arabe?"  Workshop on Debating laïcité in the Sahel: What future for secularism?  West African Research Center. Dakar, Senegal.  July 3-8, 2019.
"A tenuous belonging: Notebooks and narratives in Dakar's Marché Centenaire." 19thEuropean Conference on African Studies (ECAS).  University of Edinburgh, Scotland.  June 11-14, 2019.
"The sociolinguistics of everyday ajami writing in Senegal."  Ninth World Conference of Africanist Linguistics (WOCAL 9).  Mohammed V University of Rabat, Morocco. August 24-28, 2018.
"Vers une histoire sociolinguistique du wolof urbain."  West Africa Research Center.  Dakar, Senegal.  May 22, 2018.  See (mostly accurate…) coverage of this talk in Le Soleil newspaper.
"La sociolinguistique de l'écrit dans le trans-Sahara."  Centre de Recherche en Anthropologie Sociale et Culturelle (CRASC) and Centre d'Études Maghrébines en Algérie (CEMA).  Oran, Algeria.  April 25, 2018.  Listen to this talk (in French) on the Maghrib Podcast.