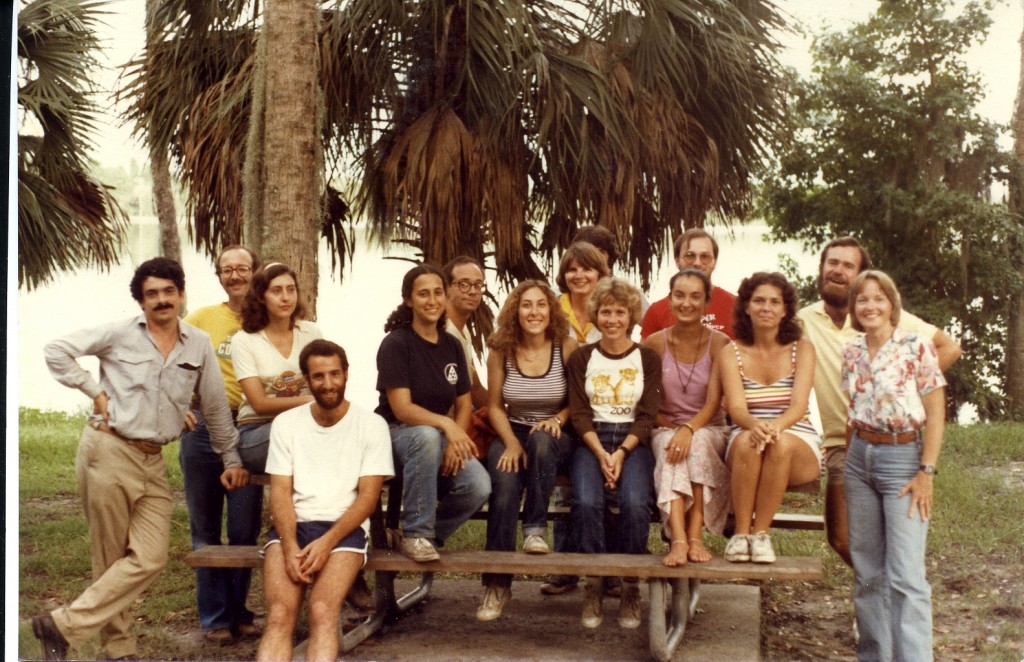 Research and Present Positions of my Graduate Students
Jeff Lucas (PhD 1983). Dissertation: Feeding behavior and life history strategies of antlions. NATO post-doctoral fellow, Oxford, England, 1983-1984. Assistant Professor, College of William and Mary, 1984-1986. Assistant Professor, Department of Biology, Purdue University, West Lafayette, IN, 1987-1994 Associate Professor, 1994-2001. Professor 2001-present.
E-mail: jlucas@purdue.edu
Web Site: Jeff Lucas
Glenn Goodfriend (PhD 1983). Dissertation: Feeding behavior and the evolution of clinal variation in Jamaican land snails. Weizmann Institution of Science Post-doctoral Fellow, Rehovot, Israel, 1983-1994. Research Scientist, Smithsonian Institution, Washington, D.C. 1994-1995. Research Scientist, Geophysical Lab. Carnegie Institution of Washington, Washington, D.C. 1995-2002 (deceased).
Steven Frank (MS 1983). Thesis: Sex ratios and reproductive behavior of Florida fig wasps. Univ. of Michigan, Ph.D. 1987. Assistant Professor, Department of Biology, University of California-Irvine, 1987-1993; Associate Professor 1994-1998; Professor 1998-present.
E-mail: safrank@uci.edu
Web Site: http://stevefrank.org/
Martin Obin (MS 1983). Thesis: Territorial and marking behavior of a brood parasitic mud-daubing wasp. University of Florida, Ph.D. 1990. Assistant Professor, Gerald J. and Dorothy R. Friedman School of Nutrition Science and Policy, Tufts University Medical School, 1996-present.
E-mail: martin.obin@tufts.edu 
Web Site: http://hnrca.tufts.edu/people/scientists/k-p/martin-s-obin-ph-d/
Linda Fink (MS 1984, PhD 1989). Thesis: Maternal investment in the green lynx spider. Dissertation: Color polymorphism in sphingid caterpillars. Assistant Professor, Department of Biology, Sweet Briar College, Virginia, 1990-1995; Associate Professor 1995-2001; Professor 2001-present. Chairman 2000-2010. Duberg Professor of Ecology 2010-present.
E-mail: lfink@sbc.edu
Web site:  http://sbc.edu/node/1317
Giselle Mora-Bourgeois (MS 1987, PhD 1991). Thesis: Mating and nesting behavior of a tropical harvestman with paternal care. Dissertation: Site-based mating system in a tropical harvestman. Assistant Professor, University of Costa Rica, San Jose, 1992-1998; Associate Professor 1998-2000. National Park Service Science Education Coordinator, Washington, D.C. Gulf Coast Cooperative Ecosystem Studies Unit, Liaison for the National Park Service, Washington, D.C.
Email: Giselle_Mora-Bourgeois@nps.gov                                                                                                                                                                                    Web Site: http://rpts.tamu.edu/people/mora-bourgeois-dr-giselle/
Karen Masters (MS 1989). Thesis: The adaptive significance of female-biased sex ratios in the neotropical treehopper Umbonia ataliba. Princeton University, Ph.D. 2000. Teaching at CIEE Study Center and conducting research for Centro Científico Tropical (CCT), Monteverde, Costa Rica on the interactions between plants and insects.
E-mail: amasters@sol.racsa.co.cr                                                                                                                                                                                               Web Site: http://www.ciee.org/study-abroad/costa-rica/monteverde/sustainability-environment/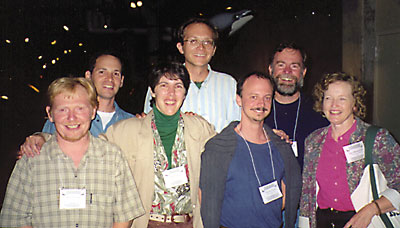 Sharoni Shafir (MS 1991). Thesis: Honeybees foraging on artificial flowers – intransitivity of preferences and energetics. Stanford University, Ph.D. 1994. Post-doctoral Fellowship, University of Ohio, Columbus, OH. 1995-1998; Lecturer 1998-2004, Associate Professor 2004-present, Department of Entomology, Hebrew University of Jerusalem and Director of the Triwaks Bee Research Center.
E-mail: shafir@agri.huji.ac.il
Web Site: http://departments.agri.huji.ac.il/entomology/staff_pages/shafir.html
Richard Buchholz (MS 1989; PhD 1994). Thesis: Singing behavior and ornamentation in the yellow-knobbed curassow (Crax daubentoni). Dissertation: Adaptive Functions of Fleshy Ornamentation in Wild Turkeys and Related Birds. Assistant Professor,  University of Northeastern Louisiana, Monroe, LA 1995-1999; Assistant Professor, Department of Biology, University of Mississippi, Oxford MS, 1999-2003; Associate professor 2004-present.
E-mail: byrb@olemiss.edu
Web Site: http://home.olemiss.edu/~byrb/
Bonnie Ploger (PhD 1992) Dissertation: Proximate and ultimate causes of brood reduction in brown pelicans (Pelecanus occidentalis). 1993-94, Visiting Assistant Professor, Grinnel College, Grinnel, Iowa (1993-94); N.A.T.O post-doctoral fellowship, Queen's University Kingston, Ontario 1994-95. Assistant Professor, Hamline College, St. Paul, MN 1995-2001; Associate Professor 2001-2009, Professor 2009-present.
E-mail: bploger@hamline.edu
Web Site: http://www.hamline.edu/faculty-staff/bonnie-ploger/
Dustin Penn (MS 1992) Thesis: Nesting behavior of horseshoe crabs. 1990-1997, University of Utah, Ph.D. 1997; Post-doctoral Fellowship, Univ. Utah 1997-2001. Senior Scientist and Director of the Konrad Lorenz Institute of Ethology, University of Veterinary Medicine, Vienna, Austria 2002-present.
E-mail: dustin.penn (at) vetmeduni.ac.at 
Web Site: http://www.oeaw.ac.at/klivv/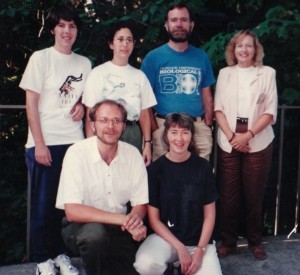 Laurie Eberhardt (PhD 1994). Dissertation: Sap Feeding and its Consequences for Reproductive Success and Communication in Yellow-bellied Sapsuckers. Assistant Professor (tenure-track), Valparaiso University, Valparaiso, IN 1994-2000; Associate Professor 2000-present.
E-mail:  laurie.eberhardt@valpo.edu
Ron Clouse (MS 1994). Thesis: Nesting Decisions of the Social Paper Wasp Myschocyttarus mexicanus. Agriculture Department Chair, PATS, Ponape, FM. 1994-1995. Archbold Biological Station, Res. Sci. 1996. Res. Sci., Museum of the Everglades 1996-97. Economic analyst, NYC (1998-2004). PhD Harvard University (2010).  Post-doctoral researcher at the American Museum, New York in invertebrate biology (2010-2013). Post-doc in Bioinformaticsw, University of North Carolina at Charlotte (2013-2015).
E-mail: rclouse@amnh.org
Jose-Luis Osorno (PhD 1996) Dissertation: Male mate desertion in the magnificent frigate-bird. Research Associate, Instituto de Ecologia, Universidad National Autonoma Mexico 1996-2004. Deceased 2004.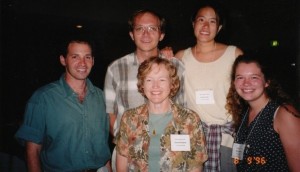 Cynthia Hassler (Macartney-Filgate) (MS 1999) Thesis: Satellite Male Groups in Horseshoe Crabs (Limulus polyphemus): How and why are males choosing females? Computer company eScan Data Systems in Austin, TX 1999-2006;  Senior Database Developer, QuickArrow, Inc., Austin, TX (2006-present).
Susan Chien (MS) 1994-2000. Paternity in the Pipe-organ Mud-daubing wasp, Trypoxylon politum. Research Assistant, Brown University.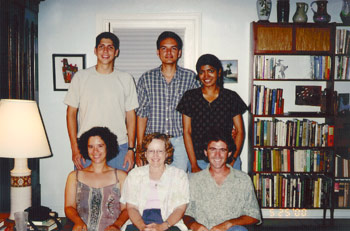 Graduate students in 2000.
Back row: Manuel Vélez, Suhel Quader, Kavita Isvaran;
Front row: Laura Sirot, Jane Brockmann and Billy Gunnels
Kavita Isvaran (Ph.D. 2003) Dissertation: The evolution of lekking: insights from a species with a flexible mating system (Indian blackbuck antelope). Gardiner Post-doctoral Fellowship from Cambridge University, UK. (Post-doc with T. Clutton-Brock, Department of Zoology) 2003-2006.  Assistant Professor, Centre for Ecological Sciences, Indian Institute of Science, Bangalore 560012 , India 2006-2014; Associate Professor 2015-present.
E-mail: kavita[at]ces.iisc.ernet.in
Web Site: http://ces.iisc.ernet.in/new/?q=user/37
Suhel Quader (Ph.D. 2003). Dissertation: Nesting and mating decisions and their consequences in the baya weaverbird Ploceus philippinus. Marie Curie E.U. Post-doctoral Fellowship., Cambridge, UK (Post-doc research in Department of Zoology, Cambridge University with N. Davies) 2003-2005. Research Scientist, British Society for the Protection of Birds 2005-2006; Scientist, National Centre for Biological Sciences, Bangalore, India (2006-present).               
E-mail: suhelq at ncbs.res.in                                                                                                                                                                                                         
Web Site: https://www.ncbs.res.in/node/327
Manuel Vélez (M.S. 1999; PhD 2004) Thesis: Parental care strategies in the Central American cichlid Aequidens coeruleopunctatus: tradeoffs between present and future reproduction. Dissertation: Natural and sexual selection on call variation in the field cricket, Gryllus rubens. Boston University School of Law (2003-2006).  Law Clerk to Judge Gustavo Gelpi, US District Court for the District of Puerto Rico (2006-2008). Present position: Intellectual property Associate Lawyer with Mayer Brown law firm, NY (2008-present).
E-mail: velezmanuel@hotmail.com
Laura Sirot (MS 1999, Ph. D. 2004). Thesis: Intersexual conflict and mating avoidance in the damselfly, Ischnura ramburi.  Dissertation: Sperm competition and cryptic female choice in a weevil, Diaprepes abbreviatus. NIH NRSA Post-doctoral Fellowship, Department of Molecular Biology and Genetics,  Cornell University, Ithaca, NY working with Mariana Wolfner (2004-2010).  Assistant Professor (tenure-track), Department of Biology College of Wooster, Wooster, OH (2010-present) E-mail: lsirot(at)wooster.edu

Web Site: https://www.wooster.edu/bios/lsirot/
Charles W.  Gunnels (Ph.D. 2006) Dissertation: Social and Reproductive Altruism in a Facultatively Social Paper Wasp, Mischocyttarus mexicanus.  (Hymenoptera: Vespidae).  Teaching post-doc., University of Florida (2006-2007). Assistant Professor, Department of Biological Sciences, Florida Gulf Coast University, Ft. Myers, FL (2007-present).
E-mail: cgunnels@fgcu.edu

Dimitri Blondel (M.S. 2006) Thesis: The Social Organization of the Singing Mouse, Scotinomys xerampelinus (Rodentia, Muridae).  Ph.D with Steve Phelps, UF (2012). Post-doctoral fellow with Christine Drea,Department of Biology, Duke University (2012-2014).
E-mail: dimitri.blondel@duke.edu
Rachel Schwab (Turbet) (M.S. 2006) Thesis: Mating group formation in the horseshoe crab (Limulus polyphemus): are satellite males ideal-free distributed among females of variable fecundity and how do they assess fecundity? Naturalist, Amelia Island Plantation (2006-2007) M.S. in teaching, UF College of Education (2009); teaching school in Jupiter, FL (2009-present)
E-mail: rlschwab13@yahoo.com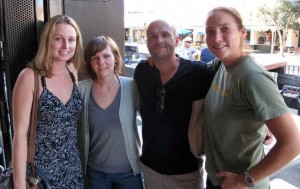 Hope Klug (Ph.D. 2007) Dissertation:  The evolutionary significance of filial cannibalism in fishes with parental care.  National Science Foundation International Research Fellowship Program: The Role of Resource Competition and Density Dependence in Sexual Selection Theory. Department of Biological and Environmental Science, University of Helsinki, Finland with Hanna Kokko (2008-2010).  NSF post-doctoral fellowship with Dr. Suzanne Alonzo, Yale University, New Haven, CT (2010-2011).  Assistant Professor (tenure-track), Department of Biological and Environmental Sciences, University of Tennessee-Chattanooga (2011-present)
E-mail:  hope.klug@utc.edu
Web Site: http://www.kluglab.com/KlugLab/Home.html
Clare Rittschof (PhD 2011)  Environmental heterogeneity and phenotypic variation: the evolution of male body size in a golden orb-web spider.  NSF Post-doctoral fellow, Department of Entomology and Carl R. Woese Institute for Genomic Biology, Dr. Gene Robinson, University of Illinois (2011-2014). Post-doctoral Associate, Department of Entomology, Pennsylvania State University, State College, PA (2014-2015). Assistant Professor (tenure-track), Department of Entomology, University of Kentucky, Lexington, KY (2016-present).
E-mail: clare.rittschof@gmail.com
Web site: http://clarerittschof.blogspot.com/
Katie Saunders (M.S.) 2008-2011.  Chemical communication in horseshoe crabs. Field Biologist, Farillon Islands (2011-2012); Copy Editor PloSOne 2012-2013; Wildlife Technician, Bird Research Northwest, Burns, OR (2013), International Bird Rescue, San Francisco, CA.
E-mail: katiesaund@gmail.com
Matthew D. Smith (PhD 2012). Evolution of body size and life-history patterns in horseshoe crabs. 2012-2013 Adjunct Lecturer, Dept of Biology, University of Florida, HHMI post-doctoral fellow with Dr. Martin Cohn, College of Medicine, UF (2014-present)                                                    Email: madsmith@ufl.edu                                                                                                                                                                                                     Web Site: http://matthew-d-smith.com/contact/
Daniel Sasson (PhD 2015). Evolution of sperm traits within and between populations.  Post-doctoral Fellowship with Dr. Joe Ryan, Whitney Laboratory of Marine Biosciences, St. Augustine, FL (2015-present)                                                                                                                                                            E-mail: dsasson@ufl.edu
Web Site:  http://www.whitney.ufl.edu/research/faculty/joseph-f-ryan/ryan-current-lab-members/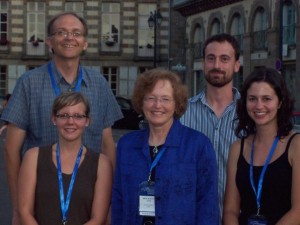 ---
Post-doctoral Fellow
Sheri Johnson (Ph.D. 2007, University of Maine; Post-doc, UF 2007-2010.  Sheri studies reproduction and fertilization in marine invertebrates; in particular, the factors that result in sperm limitation and sperm competition in marine free-spawners. Many models predict that gametes quickly become diluted in the water column, and as a consequence, many eggs remain unfertilized (i.e. experience sperm limitation). However, fertilization levels have been shown to be very high in brooding invertebrates, which may use feeding structures to filter dilute sperm out of the water column, and hence experience high levels of fertilization and sperm competition (i.e. bryozoans and ascidians).  At UF she worked on  horseshoe crabs (see above under current research). She is now a Post-doc with Neil Gemmelll, Department and Structural Biology, University of Otago in Dunedin, New Zealand where she is studying salmon.
E-mail: sheri.johnson@otago.ac.nz
Web Site: http://www.otago.ac.nz/zoology/staff/johnson.html
---
Research Collaborators: Their Current Research and Present Positions
Alan Grafen. Present Position: Lecturer, Animal Behavior Research Group, Oxford 0X13PS Present Research: Evolutionary theory including game theory, and formal links between game theory and population genetics.
E-mail: alan.grafen@sjc.ox.ac.uk or alan.grafen@zoo.ox.ac.uk
Web Site: http://www.zoo.ox.ac.uk/people/view/grafen_a.htm
Ally R. Harari. Present position: Lecturer, Department of Entomology, The Volcani Center, P.O. Box 6, 50250 Bet-Dagan, Israel. 
Present research: ecology of mating systems and sexual conflicts; management.
E-mail:   aharari@volcani.agri.gov.il
Web site: http://www.agri.gov.il/people/755.aspx
Wayne Potts. Present position: Professor, Department of Biology, University of Utah, Salt Lake City, Utah. 
Present Research: the genetics of natural and sexual selection. Current research efforts focus on the genes of the major histocompatibility complex (MHC).
E-mail: potts@biology.utah.edu.
Web Site: http://www.biology.utah.edu/people/details.php?id=275
Jon Seger. Present position: Professor, Department of Biology, University of Utah, Salt Lake City, Utah. 
Present Research: Sex allocation, especially in Hymenoptera
E-mail: seger@biology.utah.edu

Web Site: http://www.biology.utah.edu/people/details.php?id=312
Tim King. Present position: Fishery Biologist, USGS-BRD, Leetown Science center, Aquatic Ecology Branch, Kearneysville, WV 25430
Present research: Genetic stock identification of Atlantic salmon inhabiting North America; genetic population structure of horseshoe crabs in Delaware Bay.
E-mail: tim_king@usgs.gov
Web Site: http://www.lsc.usgs.gov/