Puck Talk: The +/- Factor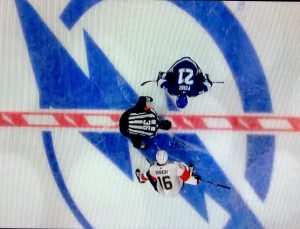 It's opening night for my hockey club, the Tampa Bay Lightning; my preferred sports season has begun. What's not to love about NHL hockey? It's fast. It flows. It's equal parts grit and grace. And the refs don't have to stop the game so much to figure out what just happened. All those sticks clacking on ice sound a furious rhythm. And seeing that big sheet of ice makes you feel cool on a subtropical night.
One of the cool things about hockey is my favorite statistic: the +/- factor. The NHL defines it this way:
Plus-Minus
A player is awarded a "plus" each time he is on the ice when his Club scores an even-strength or shorthanded goal. He receives a "minus" if he is on the ice for an even-strength or shorthanded goal scored by the opposing Club. The difference in these numbers is considered the player's "plus-minus" statistic. 
Put another way, the team is better when top +/- players are on the ice. You don't have to be shooting or hitting or assisting to accrue a +. Your +/- stat could be significantly higher (or lower)
than your Points (Goals + Assists). Less visible than Assists, a good +/- stat marks a mojo for energizing, steadying, or otherwise improving your team's performance. Last season the Lightning's top +/- player was Center Yanni Gourde, followed by Defenseman Victor Hedman.
What if our workplaces kept +/- stats? Mine tallies several stats for individual faculty: number of publications, number of Honors students directed, number of graduate students directed (Goals). Faculty in STEM fields usually list a lead author (or Principle Investigator) in publications and grants, followed by other contributors (Goals, Assists). I think future Humanities will need new stats to mark (and value) the synergies of collaborative, interdisciplinary, and multi-modal work. We also need to account for Musing and mentoring our coworkers, our team. We need to account for the plus-minus factor.  -MB
P.S. My beloved Bolts just won tonight's game. #letsgoLightning and #goGators
SOURCES:
NHL.com (Go Figure)
Photo of Yanni Gourde (Getty Images, NBC Sports)