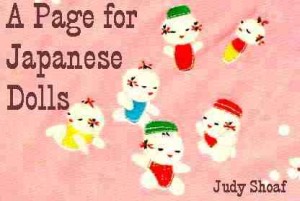 I began a website on Japanese dolls in Fall 1996, simply because I found that the Web was a wonderful, rich, cheap source of pictures and sometimes information about Japanese dolls, or ningyo. I needed a project for experimenting with Web authoring, and this seemed to me a topic which would be of interest to many, but on which not many books were available.
I have learned a lot as the site grew, and I focused in sharing my knowledge rather than simply compiling links to pictures of dolls. The Web has grown, also, and with the advent of better search engines I no longer feel that it is useful to even attempt to link to all the online material about these dolls.

At the same time, I feel that an organized treatment of the subject IS useful, and I have decided to preserve the informative aspects of the site as it grew for many years, now newly revised in 2014. This site is not by any means encyclopedic but I hope the organization of some facts and images will provide a guide for those who want to learn more about traditional Japanese dolls.
All images are my photos of items now or formerly in my own collection, unless otherwise noted. They may be re-used according to the following license:

My goal is educational, not commercial. I don't sell, appraise, or offer advice on selling dolls.
Topics covered in these pages:
Introduction — English-language books — Some Japanese films with dolls      Dolls in the Tale of Genji
Traditional doll materials and construction
Hina Matsuri: the Doll Festival (Girls' Day)    A closer look
Musha or Gogatsu ningyo, warrior and hero dolls (Boys' Day)
Geisha and actors: The Floating World      Identifying a "geisha doll" subject     Onnagata and Oiran    Shiokumi
Babies and Children, Gosho and Ichimatsu, the Friendship Doll Exchange